Today I have author Kelly Parra visiting. Her young adult novel Invisible Touch has just been released with MTV books. Here's a little about the book that Teens Read Too says is "an amazing, touching novel that deals with big issues in an original context":
Kara Martinez has been trying to be "normal" ever since the accident that took her father's life when she was eleven years old. She's buried the caliente side of her Mexican heritage with her father and tried to be the girl her rigid mother wants her to be — compliant and dressed in pink, and certainly not acting out like her older brother Jason. Not even Danielle, her best friend at Valdez High, has seen the real Kara; only those who read her anonymous blog know the deepest secrets of the Sign Seer.
Because Kara has a gift — one that often feels like a curse. She sees signs, visions that are clues to a person's fate, if she can put together the pieces of the puzzle in time. So far, she's been able to solve the clues and avert disaster for those she's been warned about — until she sees the flash of a gun on a fellow classmate, and the stakes are raised higher than ever before. Kara does her best to follow the signs, but it's her heart that wanders into new territory when she falls for a mysterious guy from the wrong side of town, taking her closer to answers she may not be able to handle. Will her forbidden romance help her solve the deadly puzzle before it's too late…or lead her even further into danger?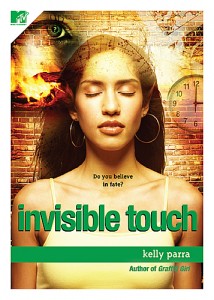 JG: Tell me a little about your book.
KP: Invisible Touch is about Kara Martinez.  Kara was in a tragic accident at eleven and lost her father, yet also gained something else–visions.  Or "signs" that she sees on individuals' torsos.  She must piece these signs together like a puzzle and do her best to stop unfortunate fates.  Because of the pressure and mystery of the events, Kara keeps an anonymous blog called Secret Fates.  When she sees the sign of a gun on a fellow classmate, the latest mystery takes her into dangerous territory that increases with a relationship with a boy from the wrong side of town.  Invisible Touch has mystery, romance, and family drama, and I'm hoping I give readers an entertaining read.
JG:  What got you writing in the genre in which you write.
KP: When I started writing, I was writing Romantic Suspense. But I always wanted to write in two genres. I had a great idea for a young adult novel. Once I had sold my Romantic Suspense, my YA novel Graffiti Girl sold a couple of months later.
JG:  Favorite thing about being a writer?
KP:  The creativity of building characters and their stories from scratch. Using my imagination has always been a rush for me, and creating stories is what I love to do.
JG:  Least favorite thing about being a writer?
KP: The business side is hard to keep up with, such as the market and promotion. If I could just be a recluse and ship off stories to my agent whenever I wanted I'd be thrilled. :)
JG:  What is the most interesting thing that's happened to you since becoming a published author?
KP: I'd have to say learning that my novel Graffiti Girl is being used in classrooms and recommended for high school students and have a producer option the film rights. I never thought these things would be possible.
JG:  What's your favorite type of pie?
KP: It has to be Blueberry with a golden crispy crust. Yum.
Kelly Parra is the author of Graffiti Girl, a double RITA nominee and a Latinidad Top Pick, and the contemporary paranormal, Invisible Touch. When not pulling her hair while writing her current novel, she likes to play with her abundance of websites and feed a serious television addiction.