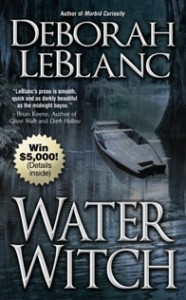 Please welcome guest Author Deborah LeBlanc, whose novel Water Witch was just released by Dorchester Publishing.  Publisher's Weekly calls Water Witch an "imaginative thriller." Set in the spooky bayous of Louisiana, Water Witch is chilling story guaranteed to make you leave the lights on when you go to bed after reading it.
When I first started writing, I had been in business for more years than I cared to remember. At first, I thought the two entities (writing and business) had absolutely nothing in common, so I tried separating the two. It didn't take long for me to realize how big a mistake that assumption was. Writing is a business, just different from the ones I was used to. Needless to say, though, as I restructured my thinking and attempted to merge the two together, I met with frustration of the highest order. Argg! As some of you have heard me spout off about before, publishing does not follow any standard business practice known to man, woman, or wooly-back orangutan. It's its own worst enemy at times.
That being said, however, I decided to take the advice of a man I'd admired for years. One whose wisdom has helped me understand the meaning of success, which inevitably moved me up the ladder in quite a few corporations. I figured why not use those same principles in writing.
So I did. And I'll be damn if they didn't prove to be just as true in the publishing business as in any other venture.
 I thought I'd share some of that guy's wisdom with you today….
"The difference between a successful person and others is not a lack of strength, not a lack of knowledge, but rather in a lack of will.
The spirit, the will to win and the will to excel–these are the things that endure and these are the qualities that are so much more important than any of the events that occasion them.
Success is like anything worthwhile. It has a price. You have to pay the price to win and you have to pay the price to get to the point where success is possible. Most important, you must pay the price to stay there.
Once you agree upon the price you and your family must pay for success, it enables you to ignore the minor hurts, the opponent's pressure, and the temporary failures.
If you'll not settle for anything less than your best, you will be amazed at what you can accomplish in your lives.
Remember, it's not whether you get knocked down, it's whether you get up."
—-Vince Lombardi
What or who has inspired you to keep pushing forward when life gets tough? 
Deborah LeBlanc is an award-winning author from Lafayette, Louisiana. She is also a business owner, a licensed death scene investigator, and an active member of two national paranormal investigation teams. Deborah's unique experiences, enthusiasm, and high-energy level make her a much sought after speaker at writers' conferences across the nation. She also takes her passion for literacy and a powerful ability to motivate to high schools around the country.
She is the president of the Horror Writers Association, president of the Writers' Guild of Acadiana, president of Mystery Writers of America's Southwest Chapter, and an active member of Sisters in Crime, the National Association of Women Writers, and International Thriller Writers Inc. In 2004, Deborah created the LeBlanc Literacy Challenge, an annual, national campaign designed to encourage more people to read, and soon after founded Literacy Inc., a non-profit organization dedicated to fighting illiteracy in America's teens. Her latest novel is WATER WITCH.
To check out the book trailer on Water Witch, visit: http://www.deborahleblanc.com/index.cfm