Silver Spoon Romeo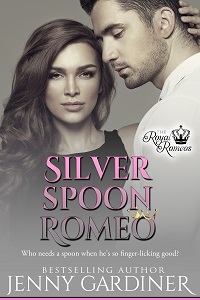 Book 5: The Royal Romeos
…Who needs a spoon when he's so finger lickin' good?
Celebrity TV show host Sophie Pellegrino's life needs a little kick-start. Watching her best friend fall head-over-heels for a handsome Italian man had already stirred up Sophie's longings to at the very least get in touch with her Italian roots. She'd be even happier if she could get in touch with an Italian man while she was at it. Preferably while drinking plenty of delicious Italian wine. When she lands her dream assignment hosting a "Lifestyles of the Rich and Famous" type of show, she seizes the opportunity to attempt all of the above when she decides to take her show in the road to the world-renowned vineyard Cantine Marchesi Romeo in Chianti. Italy? Check. Fine wine? Check. Italian man? With some luck, maybe she could find herself a Romeo playmate and score her own personal hat trick while basking beneath the Tuscan sun.
Lorenzo Romeo, a playboy whose friends liked to joke that he put the "roam" in Romeo, is tired of being used as the face of Romeo wines. For too long, his brother Alessandro has made Lorenzo serve as the mouthpiece for the family empire, and he's over being just another pretty face to sell wine. He wants to be taken seriously. So when an American woman shows up wanting to capitalize on his good looks to score some television ratings, he wants nothing to do with her show or her. And when his brother forces him to be a gracious host, Lorenzo digs deep to shun the stunning intruder who is clearly intent on making his life a living hell.
Too bad for him, Sophie's not going to let some conceited Italian Alpha Dog get in the way of her professional success, even if that means running roughshod over his bloated ego, and maybe even his fragile heart.