Red Hot Romeo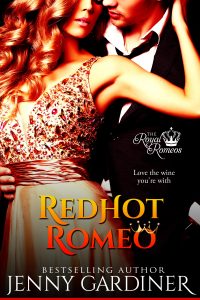 Book 1: The Royal Romeos
Love the wine you're with…
Alessandro Romeo is burned out after finally extricating himself from a nearly year-long relationship with a hot-tempered Italian model who set fire to his Lamborghini when she suspected him of cheating. He's sworn off the fairer sex and instead spends his waking hours overseeing the expansion of his family's hugely successful winery in the magnificent hills of Chianti, where he is happy to never see a model again, let alone date one.
American supermodel Taylor McFarland might be blond, but she sure isn't dumb. And she's smart enough to know to avoid the shallow men who seem to migrate toward her type, the ones who presume that models are the wild women of the fashion industry who happily discard men like used tissues.
Only Taylor's not that type at all; instead, she's intent on using the influence her position affords her to help those less fortunate than she.
But when her good deeds means clashing with the quintessential heartless Italian player who she'd heard left model Gia Sandretti at the altar, well, she will happily give him a piece of her mind, and certainly not a piece of her heart.