Black Sheep Romeo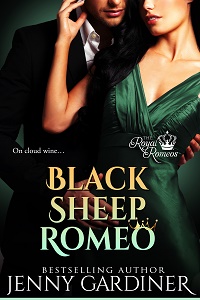 Book 2: The Royal Romeos
On cloud wine…
Sometimes trouble seems to find Matteo Romeo whether he seeks it out or not. Long regarded as the black sheep of the famed Romeo winemaking family, he's hardly surprised when he finds himself in yet another predicament, this time harboring an unauthorized farmhand who he's discovered hiding in a tool shed just as the grape harvest gets underway.
Freespirited Lizzie Moretti has long prized her independence. Lizzie's been wandering around the world, working odd jobs to earn just enough money to keep on the go. Forced to flee an aggressive host in the middle of a rainy night while working on a farm in Tuscany, she seeks the shelter of a tool shed until she can figure out a plan. Alas, it happens to be on the estate of the wealthy Romeo family on the eve of the coveted grape harvest, when strangers like Lizzie are most unwelcome.
She's never put down roots. And he can't seem to escape the roots that sometimes feel like they're strangling him. They both walked away from family, but can they find salvation in the very family they've tried to run from?