Coming Soon
Hard to Get
Hard to Get Series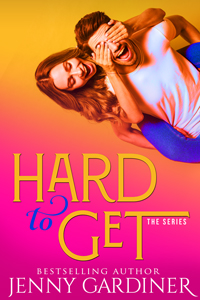 Shrimply irresistible…
Lola Quigley can't believe her good luck when she wins a spot on the Food Channel's popular Shop till you Drop. The show features amateur foodies competing to produce a prize-winning meal from staples commonly found in food banks, where people often unload their most unwanted pantry items. Having lived on a near poverty-level budget for a few dark years when her life imploded unexpectedly, Lola had grown to love the challenge of creating delicious meals with the cheapest ingredients she could find on the sale shelf of the grocery store, or—in a twist of irony—donated from her local food bank. She just has to win this: the prize money would help her launch the soup kitchen food truck she's dreamed of starting. It'll be her way of paying it forward after she managed to dig out of a financial hole she'd doubted she ever could escape.
Levi Patton is pissed. He's stuck doing penance as a guest chef on an annoying cable reality TV show where overly enthusiastic wannabes try to outdo him with random undesirable ingredients. Will he ever get over the meteoric crash of his career after a food critic found the unmistakable tail of a rat floating atop his bouillabaisse at Levi's revered Washington, DC, restaurant? Convinced, but unable to prove, that a jealous sous chef sabotaged him, his name is now mud in the food world; he's drowning in the veritable toilet of the culinary industry: competing on Shop till you Drop. And he's totally screwed when he ends up pitted against the overly cheerful brunette with the tattoo of Popeye on her bicep, the very woman he'd left at the altar nearly a decade ago.
Out Now
Lady Killer
Confessions of a Chick Magnet Series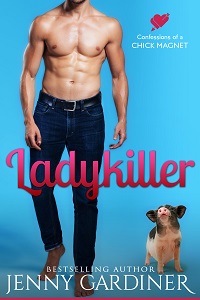 Don't go bacon my heart…
Animal lover Coco Lovingston wants to recharge her soul after a bruising attempt to succeed as an actress in Los Angeles, so she returns home to Bristol, Montana to a simpler life, working at an animal rescue clinic to recharge her broken spirit. She's perfectly content filling her days caring for abandoned creatures, enjoying lone strolls in the mountains, and reconnecting with old friends, but soon learns how precious life is when she takes a wrong turn on a dense forest hike and can't find her way out.
Elliott Barbour was seriously not looking for a pig in his life. In fact, the only reason he'd even stopped by the Second Chances rescue clinic was to get his mother a kitten for her birthday. Until he's talked out of it by a cute employee who argues that a cat can live a long, damned time, and his mom wasn't getting any younger. Which would mean he'd get stuck some day with a fusty feline: pure torture, what with his allergies. When he takes one look at Oink, the miniature pig batting her come-hither lashes at him, what's he to do but go in whole-hog and bring her home as the unusual pet his mother never knew she'd love? Too late he realizes that he's got an unwanted pig in a poke, since miniature pigs are a lot of work and don't remain so tiny after all, and his mom declines the porcine gift.
No sooner is the feisty little porker making him crazy than he's tasked with spearheading the rescue of some dumb woman who's gone missing after foolishly heading off in the mountains without even a cell phone or a bottle of water. Elliott counts the minutes till he can give her a piece of his mind for her irresponsibility—that is, if he's even able to find her alive.