Coming Soon
Falling for Mr. Right
Book 5, The Falling for Mr. Wrong Series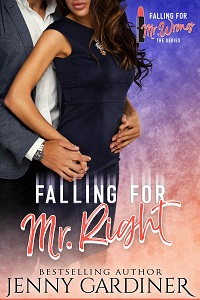 How could a man so perfectly wrong be so completely right?
Maddie Henderson is the trivia queen of Verity Beach, and she's got a shelf full of trophies to prove it. Word's gotten around that she's downright unbeatable when it comes to being brimming with useless knowledge and pop culture fun facts.
Unbeatable, that is, until Donovan Reeves—the one that got away—shows back up in town, years after crushing her heart like a bug on the sidewalk. And Donovan is determined to crush Maddie again, this time in the statewide trivia championships, while proving to her she had him all wrong and he's truly the right man for her.
Out Now
Falling for Mr. Sometimes
Book 2, The Falling for Mr. Wrong Series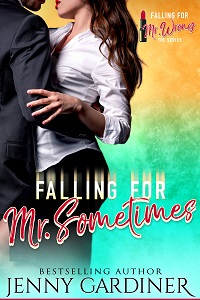 If this truck's a-rockin' don't come a-knockin'
Jamie Lundquist had gone soft. More like squishy. Usually a lean, athletic surfer girl, the stress of her newly-divorced parents dueling for her undivided attention had driven her to seek solace in food and binge-watching TV shows, and her fat ass had become a testimonial to her woes. So with the New Year, she's vowed to turn over a new leaf and get back in shape before surf season kicks in.
But temperatures rise and tempers flare when she has to wedge her car into a half space left by some jerk who straddled two spaces in the crowded gym parking lot, and he goes for the jugular, pointing out that she needs to stop criticizing him and get to the gym to rehabilitate her out-of-shape physique.
Carter Henderson's day just keeps getting worse. First he flattens a skunk in his new truck, then he gets not one but two injuries during his pre-dawn workout. He just wants to get home, take a hot shower and ice his wounds before embarking on the first day of the new job he was so excited to start. Instead he finds himself a speechless combatant in a war of words with a snarky woman who's all up his ass over his park job.
Jamie would like nothing more than to forget that the jerk existed. Until he turns up as the new chef at her father's new restaurant, where she's been waitressing while trying to figure out what she wants to do with her life. And when her father refuses her demands to fire the moron, all bets are off as the heat is turned up to scorching in the kitchen to see who will bring the other down first.