Coming Soon
Bird Dog
Confessions of a Chick Magnet Series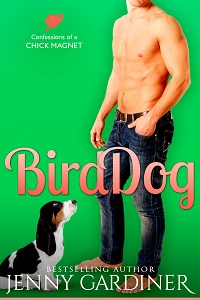 If you can't be with the one you love, hug the one you're with…
Elise Jackson is going through the motions of yet another wacky bachelorette party scavenger hunt, counting the minutes till martini time, when she accidentally ends up in a close encounter with the man who practically tore her heart out of her chest years earlier. Now she just needs to get through the weekend unscathed and she can pretend she never touched the man. Until she finds out he's a groomsman in her good friend's wedding, and she's been paired up with him the whole. damned. weekend.
Will Montgomery thought he could kill two birds with one stone—back in town for a wedding, he and some friends decided to set up a hugging station to raise money for a buddy's son who needs expensive surgery. Only who does he get stuck hugging but the woman he once thought he was going to marry, who now would rather see him under the wheels of a bus than wrapping his arms around her? But once he feels his body pressed to hers, he realizes that the one that got away was now within arm's reach and he's not prepared to let her go yet again.
Out Now
Cabana Boy
Confessions of a Chick Magnet Series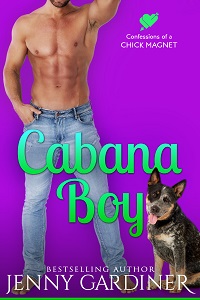 All men are not created equal…
Fletcher Campbell thought he'd been hired by famous film producer Justine Gaynor to be her right-hand man, but quickly learns that she only wants him for how good he looks in a bathing suit—as evidenced by the frequent meetings poolside she insists he attend wearing only his Chubbies swim trunks, and where her hands always seem to find their way onto his naked flesh. He's determined to prove he's more than just a pretty face when he persuades her to premiere her latest film in his hometown of Bristol, Montana. Only he gets more than he bargains for when she makes him the laughingstock of the place he once called home.
Cricket Ferguson has no need for men in her life. She's perfectly happy running the little French patisserie she started upon returning home to Bristol after a stint in pastry school in Paris and working at bakeries on the East Coast. Her shop keeps her plenty busy and besides, who's got time for men who are only going to break your heart? Certainly not Cricket. That is, until the boy she wanted to marry shows back up in town on the arm of some famous Hollywood type, flaunting his fame and fortune and reminding her of the pain he caused when he went away all those years ago.