Coming Soon
Skirt Chaser
Confessions of a Chick Magnet Series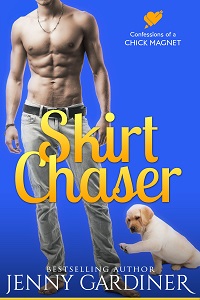 Sometimes you'd rather be caught with your pants down than your skirt up…
Zoey Richards needs to get far away from her past. Following a broken engagement and an earful of I-told-you-so's from her controlling parents, she decides to flee the West Coast for the hinterlands, finding herself alone and licking her wounds in the wide open spaces of Bristol, Montana, happily away from anyone who knows her or anything about her life.
Tanner Eliason loves that no one knows who he really is. More like who he was. As the son of a famous film director and his attention-seeking starlet wife, every moment of his childhood was recorded by the paparazzi for posterity. And suffice it to say nothing about your childhood should be in the public spotlight so much. So when the daughter of a family friend punches a ten-year old Tanner at a film premier and he runs to his mother for solace, the media had a field day mocking the poor boy. From then on, Tanner counted the minute till he could escape his childhood and carve a normal life for himself in the mountains of Montana, where no one would ever know that he once was known the world-over as the Weeping Wimp. That is until the girl with the mean left hook shows up in his one-horse town, and threatens to make his life a living hell.
Out Now
Falling for Mr. Right
Book 5, The Falling for Mr. Wrong Series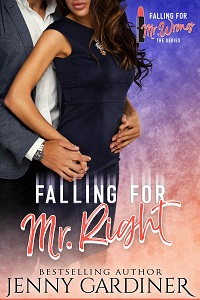 How could a man so perfectly wrong be so completely right?
Maddie Henderson is the trivia queen of Verity Beach, and she's got a shelf full of trophies to prove it. Word's gotten around that she's downright unbeatable when it comes to being brimming with useless knowledge and pop culture fun facts.
Unbeatable, that is, until Donovan Reeves—the one that got away—shows back up in town, years after crushing her heart like a bug on the sidewalk. And Donovan is determined to crush Maddie again, this time in the statewide trivia championships, while proving to her she had him all wrong and he's truly the right man for her.