Coming Soon
Cabana Boy
Confessions of a Chick Magnet Series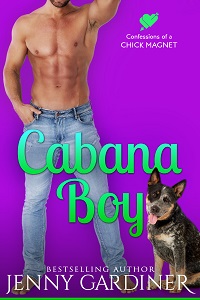 All men are not created equal…
Fletcher Campbell thought he'd been hired by famous film producer Justine Gaynor to be her right-hand man, but quickly learns that she only wants him for how good he looks in a bathing suit—as evidenced by the frequent meetings poolside she insists he attend wearing only his Chubbies swim trunks, and where her hands always seem to find their way onto his naked flesh. He's determined to prove he's more than just a pretty face when he persuades her to premiere her latest film in his hometown of Bristol, Montana. Only he gets more than he bargains for when she makes him the laughingstock of the place he once called home.
Cricket Ferguson has no need for men in her life. She's perfectly happy running the little French patisserie she started upon returning home to Bristol after a stint in pastry school in Paris and working at bakeries on the East Coast. Her shop keeps her plenty busy and besides, who's got time for men who are only going to break your heart? Certainly not Cricket. That is, until the boy she wanted to marry shows back up in town on the arm of some famous Hollywood type, flaunting his fame and fortune and reminding her of the pain he caused when he went away all those years ago.
Out Now
Boy Toy
Confessions of a Chick Magnet Series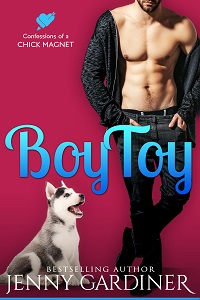 Does this ring make my ass look big?
Izzy Strong has grown weary of the loser guys of L.A., having ditched the latest, a guy who couldn't seem to look up from his ESPN app to conduct a meaningful conversation. He'd followed on the heels of a lifeguard obsessed with sharks, a waiter who bragged far too often about serving the Kardashians, and a foot fetishist who demanded she wear sandals while vacationing at a ski resort in the dead of winter. So when she hears about a charming man from the remote Montana town where her best friend Zoey lives who's holding a contest to give away the very expensive ring from his failed engagement, she hightails it to Bristol, Montana to see if he's as bighearted as her friend claims he is. Too bad she finds out immediately that he's a thoughtless jerk who hasn't the common decency to even curb his dog.
Sully Forester is ready to let go of the last remaining ties to his long-term relationship with a fiancé who ditched him weeks before their wedding: the engagement ring. When he decides to hold a contest to flat-out give the pricy bauble to the person who persuades him he's most deserving of it, he has no idea of the craziness he'll be unleashing in his adopted town of Bristol, Montana. Beginning with being wrongfully accosted by a cranky shrew of a woman who flips out on him for his dog's transgressions, even when his dog isn't the culprit. Thank goodness he'll never see her again.