Coming Soon
Lady Killer
Confessions of a Chick Magnet Series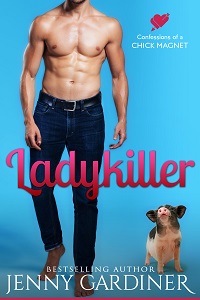 Don't go bacon my heart…
Animal lover Coco Lovingston wants to recharge her soul after a bruising attempt to succeed as an actress in Los Angeles, so she returns home to Bristol, Montana to a simpler life, working at an animal rescue clinic to recharge her broken spirit. She's perfectly content filling her days caring for abandoned creatures, enjoying lone strolls in the mountains, and reconnecting with old friends, but soon learns how precious life is when she takes a wrong turn on a dense forest hike and can't find her way out.
Elliott Barbour was seriously not looking for a pig in his life. In fact, the only reason he'd even stopped by the Second Chances rescue clinic was to get his mother a kitten for her birthday. Until he's talked out of it by a cute employee who argues that a cat can live a long, damned time, and his mom wasn't getting any younger. Which would mean he'd get stuck some day with a fusty feline: pure torture, what with his allergies. When he takes one look at Oink, the miniature pig batting her come-hither lashes at him, what's he to do but go in whole-hog and bring her home as the unusual pet his mother never knew she'd love? Too late he realizes that he's got an unwanted pig in a poke, since miniature pigs are a lot of work and don't remain so tiny after all, and his mom declines the porcine gift.
No sooner is the feisty little porker making him crazy than he's tasked with spearheading the rescue of some dumb woman who's gone missing after foolishly heading off in the mountains without even a cell phone or a bottle of water. Elliott counts the minutes till he can give her a piece of his mind for her irresponsibility—that is, if he's even able to find her alive.
Out Now
Bird Dog
Confessions of a Chick Magnet Series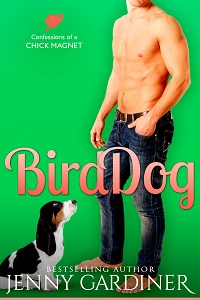 If you can't be with the one you love, hug the one you're with…
Elise Jackson is going through the motions of yet another wacky bachelorette party scavenger hunt, counting the minutes till martini time, when she accidentally ends up in a close encounter with the man who practically tore her heart out of her chest years earlier. Now she just needs to get through the weekend unscathed and she can pretend she never touched the man. Until she finds out he's a groomsman in her good friend's wedding, and she's been paired up with him the whole. damned. weekend.
Will Montgomery thought he could kill two birds with one stone—back in town for a wedding, he and some friends decided to set up a hugging station to raise money for a buddy's son who needs expensive surgery. Only who does he get stuck hugging but the woman he once thought he was going to marry, who now would rather see him under the wheels of a bus than wrapping his arms around her? But once he feels his body pressed to hers, he realizes that the one that got away was now within arm's reach and he's not prepared to let her go yet again.