Something In The Heir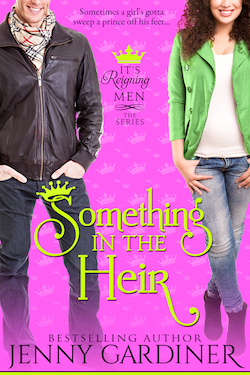 Book 1: It's Reigning Men
He's a prince with a problem, she's a commoner with a getaway plan.
Sometimes even a prince needs to get away from it all…
Modern-day Prince Adrian of Monaforte has a most old-fashioned problem: his demanding mother wants him wed to her best friend's daughter, the hard-partying Serena. When his refusal falls on deaf ears, Adrian decides it's time for him to slip away from his gilded cage and figure out his life, all on his own. As luck would have it, event photographer Emma Davison, weary of a revolving door of lost-cause men and tired of her outsider-looking-in career, is in need of her own escape clause, just in time to help a wayward prince in need. And she soon discovers that sometimes a girl's gotta sweep a prince off his feet.
For any girl that's ever held out hope that some day her prince would come…or better yet, hoped that some day she'd come to him.