Hard to Get Over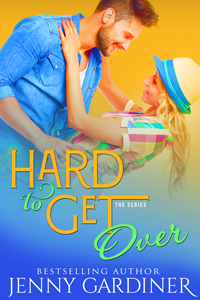 Book 3: Hard to Get
Go hard or go home…
After losing her beloved neighbor Violet, Daphne Sweeney realizes her dream when Violet leaves her part ownership of the duplex she shared with her aged friend. Finally, after years of trying to scrape together the money for her own place, Daphne can stay put, establish some real roots, in her humble little home from Violet.
Until she realizes Violet left the remaining ownership of the house to a very distant relative, Brady McGovern, who just so happens to be Daphne's college boyfriend who fled town the day after graduation, never to be heard from again.
And Brady has touched down in town just long enough to unload the property and get back on the road again, just like the good old days.