Malena Lott and I stumbled upon each other at a writing conference a few years back on an escalator. Well, I guess we'd chatted briefly at a cocktail party, then ended up leaving at around the same time, and by the time we were on the escalator I knew we'd get to be good friends. She's got that sweet southern charm peppered with a bit of mischief and is a lot of fun to hang with. I was so honored when she asked me to read her book for a cover quote and really enjoyed it thoroughly. I was happy when Malena joined the Girlfriends' Cyber Circuit, and I'm happy to tour her wonderful novel. Welcome, Malena!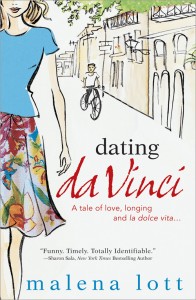 JG:  Tell me a little about your book.
ML:  Dating da Vinci is the story of a young widow, 36-year-old Ramona Elise (Mona Lisa), during her Renaissance (awakening), with the help of a handsome immigrant named Leonardo da Vinci. She desperately wants to find la vita allegro, joyful living, and da Vinci's passion is contagious. The story follows her journey of body, mind and spirit to creating a wholly new life and letting go of the pain of the past.
 JG:  What got you writing in the genre in which you write?
ML:  I've always loved stories about relationships, period. Human drama and the range of emotions that go with it just fascinate me. I've read and enjoyed so many great authors over the years, including all of John Irving's novels, who really taught me so much about how far you can take a character, but then I also really think laughter adds so much to life.
JG:  Favorite thing about being a writer?
ML:  Getting paid for something I love to do is a great joy. I also don't mind marketing the book since my other hat is as a marketing and branding consultant. I love the whole process of writing – the ideas, building characters, dialogue and weaving the story together.
 JG:  Least favorite thing about being a writer?
ML:  You naturally worry about the business side of things – and some things you just can't control. The publisher is responsible for so much of whether or not your book will be a success – the sales, distribution, marketing, packaging, co-op (or in most cases no co-op) and so on. And then it's up to the readers to buy the book, so that part of it is tough. Even NYT best-selling authors tell me they are still nervous about all that stuff, so I don't think it entirely ever goes away, no matter your success.
 JG:  What is the most interesting thing that's happened to you since becoming a published author? 
ML:  It's always a nice compliment when people get surprised/excited look on their face when they hear that you are an author. The publicity is always an interesting ride – who will pick up the story, who will want to do radio/TV/print/web interviews and so on. And this year I had a digital billboard up for two weeks promoting the book on a busy highway in Oklahoma City so that was something new for me.
 JG:  What's your favorite type of pie?
ML:  Hot apple pie with ice cream is a nice choice, but I sure do miss my grandmother's peach cobbler, too.
Malena Lott writes humorous and heartfelt mainstream women's fiction novels. With national speaking experience, she is a brand and marketing consultant and facilitates personal and professional development workshops for women. Dating da Vinci is Malena Lott's second novel. Lott is a married mother of three and resides in Oklahoma. Lott invites you to her web site where she has posted cooking videos, contests and an excerpt of the first chapter: www.malenalott.com.