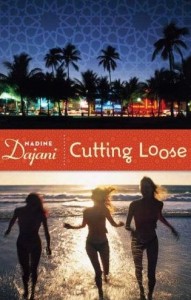 Today's guest author is Nadine Dajani, who's led quite an interesting life, in many exotic locales, which certainly influence her novels.  Her second novel, Cutting Loose, has drawn praise from Publishers Weekly as "engrossing."
Please Welcome Nadine Dajani:
JG: Tell me a little about your book.
ND: It's a friendship tale that unfolds backwards… and spans a few continents! When Ranya, the pampered, sheltered daughter of wealthy Middle-Eastern parents finds out that the Prince Charming she'd shelved her virginity for would rather bed Paolo the decorator-cum-underwear-model than her, she decides to leave humiliation behind and flees towards the comfort of Harrods and Harvey Nic's across the pond. Except her parents don't let her have her way this time, and demand she come home or else find a way to fend for herself. Luckily an accidental run-in with a hot young Miami mogul and a less lucky encounter with an unfriendly childhood acquaintance, Zahra, see Ranya accepting a job working for Rio, a Latina editor of a Miami fashion magazine with a serious chip on her shoulder. The different ethnic backgrounds and temperaments of this unlikely trio – not to mention their romantic designs over a couple of seriously eligible bachelors – is what sets off the fireworks. Think of this book as Girls of Riyadh meets The Dirty Girls Social Club. 
 
JG: What got you writing in the genre in which you write?
ND: I fell in love with the voices of chick lit authors early on, and the versatility of the genre. I know that for marketing reasons publishers started slapping pastel colored covers on anything that was lighthearted in tone and directed at women. And though I never took issue with the covers, it did annoy me that all chick lit writers, the good, the bad, and the ugly, were looked down upon as inferior in the same way. I think that much of chick lit leans towards mainstream fiction, which is just a way of saying "topical" or "of general interest" and that's why I love writing in this genre – the freedom to cover whatever topics I want, even potential downers like racism and immigration, with a light, funny tone.
 
JG: Favorite thing about being a writer?
ND: I love "research". The first scene in Cutting Loose is inspired by an actual (unfortunate) event that transpired while I was visiting a friend in London and was having lunch on the rooftop terrace at Harvey Nichols. Every morning when my friend would leave for work and I'd hit the London shops, she would say: aren't you supposed to be writing??
And I would say: I am! Promise! I'm researching!
Now that she's read Cutting Loose and recognized her city in the pages, she has conceded that I was in fact "researching" : )
I love that writing is essentially an excuse to learn about things that have always interested you, or at least to be open enough about the world around you that you see every chance encounter, every unexpected interesting locale or event as potential fodder for creativity.
 
JG: Least favorite thing about being a writer?
ND: The discipline. I have to admit that it's a struggle for me to get words on the page every single day, though I really wish I was one of those writers who could sit down and be creative every morning between the hours of 5 and 8 am and then go off and start the rest of their day. I also hate this newfound addiction to Amazon rankings… 
 
JG: What is the most interesting thing that's happened to you since becoming a published author?
ND: I live in the Cayman Islands, which is a small enough pond that you can easily feel like a big fish if you tried. I love that after a spread in the local paper when my first book came out, everyone – from the girl who usually books my airline tickets, to barristas at my favorite coffee shop to a stranger who'd actually read my book and recognized me from my author photo – they now smile and ask me how the writing is going when they see me. Being published in fiction also opened the door for my travel writing – a huge dream that fell right into my lap after Fashionably Late was released. 
 
JG: What's your favorite type of pie?
ND: Apple, hands down. There's something about the baked-apples-and-cinnamon combo that gets me no matter what shape it's presented in. And pumpkin isn't exactly popular in the Middle East, so I've yet to taste pumpkin pie… I guess apple wins by default anyway.
Born in Beirut, Lebanon to Palestinian parents, Nadine spent the first nine years of her life in Saudi Arabia before settling in Montreal. While Nadine could definitely think of better ways of spending a year than devoting it to mastering the French language, the experience (and all that duty-free terminal shopping) would turn Nadine onto the wonders of world travel and the quirky, unexpected (and usually hilarious) ways cultures meshed (or stubbornly refused to). As an adult she moved to the Cayman Islands to pursue a career in, what else – offshore banking. And while Nadine has yet to see her "golden parachute" she did get to reap the rewards of Caribbean relocation by island-hopping to nearby Cuba, Jamaica, Honduras and Miami whenever the travel bug bites.
Nadine's travel articles have been published in Atmosphere magazine. Cutting Loose is her second novel.