Welcome Guest Author Jessica Brody
I've gotten a little backlogged with GCC guests so I have a few to put up in the next week or so. Today please welcome Jessica Brody, whose novel The Fidelity Files debuted last June. I love what USA Today said about it:
"Sisters unite! This is a total revenge fantasy for anyone really tired of men with overactive zippers."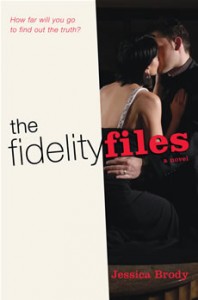 Welcome, Jessica!
JG:  Tell me a little about your book.
JB:  The Fidelity Files is the story of a beautiful, L.A. woman who works as an undercover "fidelity inspector," hired by suspicious wives and girlfriends to test the faithfulness of the men in their lives. Except no one in her life knows what she does. Her friends and family all think she works for an investment bank. 

Of course things get even more complicated when she meets the sexy and sophisticated Jamie Richards, the only man she's ever fully been able to trust.
But is a fidelity inspector really capable of having a normal relationship?
JG:  What got you writing in the genre in which you write?
JB:  It's pretty simple, really. I write the kind of books I would want to read. I don't see the sense in writing in a genre you don't enjoy. I've always loved chick lit and women's commercial fiction. Emily Giffin, Sophie Kinsella, Helen Fielding are some of my favorites. In fact, it was Bridget Jones's Diary that inspired me to write novels in the first place. So it seemed only natural that I would write in the same genre.
JG:  Favorite thing about being a writer?
JB:  The flexible schedule. Essentially I can work whenever and wherever I want. Three in the morning, nine at night. I love not having a boss or a time clock telling me what I have to do and when.
JG:  Least favorite thing about being a writer?
JB:  The flexible schedule. It makes it very easy to procrastinate!
JG:  What is the most interesting thing that's happened to you since becoming a published author? 
 JB:  Seeing your work translated into other languages is pretty bizarre. I saw a sneak peak at the German translation for my book and I was like, "Holy cow, I have no idea what I wrote!" That's pretty surreal.
 JG: What's your favorite type of pie?
JB:  Haha…this question made me laugh. I'm not a big pie person, but I will have to say there's this berry farm on the central coast of California called the Linn's and they specialize in growing the Ollalieberry (which is a cross between a Youngberry and a Loganberry). I'd never heard of it before but it's divine. And their Ollalieberry pie is to die for!
Jessica Brody  graduated from Smith College with degrees in economics and French. A full-time writer and producer, she lives in Los Angeles where she is currently working on her next novel.
Categories: News, Sleeping with Ward Cleaver
Tags: