Welcome New York Times Bestselling Author Allison Winn Scotch
I'm thrilled to have Allison Winn Scotch join me today. Her latest novel, Time of my Life (in which she explores what might happen if you could live your life all over again, and change the course of history) has met with enormous success and hit the New York Times bestsellers list. It was also chosen as a Today Show must-read for the fall season, received a glowing review from People Magazine, and has been optioned for a film by the Weinstein Company. Allison and I have been on a number of online writing groups over the year, and I know her as a very gracious person willing  to share with other up-and-coming writers and someone who has worked very hard for her success. I can't wait to read her novel, which is sitting atop my to-be-read pile.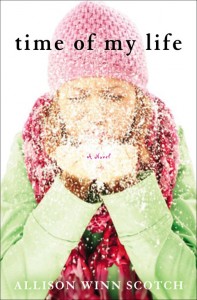 JG: Tell me a little about your book.
AWS:  Time of My Life is the story about a woman who, on the surface, seems to have it all.  But when you peel back her layers, you discover that she is deeply unhappy and has lingering "what ifs" about her past.  Rather than face her current problems, she wakes up one day seven year in her past – at her old job, with her old boyfriend – and has the opportunity to rewrite her future.
JG:  What got you writing in the genre in which you write.
AWS:  I write commercial fiction, and I write it because I read it.  I'm not going to pretend that I pore over highly literary works: I like books to suck me in, entertain me, and spit me out when they're done.  Look, I'm a working mom with two young kids…I simply don't have the mental energy to read a book that's going to take a month to finish because I have to reread every other sentence to fully understand the hidden meanings.  I like sharp, intelligent, thought-provoking commercial fiction…that I can finish in less than a week. So I hope that my book meets all of those criteria! It's definitely one that if I hadn't written I'd pick up.
JG:  Favorite thing about being a writer?
AWS:  The freedom of it.  I love being able to schedule my day as I so choose; to hang out with my kids and then retreat to my office and get some work done; to totally blow off days if I'm not in the mood but to also hunker down and write for hours on end when I'm inspired.  I also love that I can create something from nothing but what is purely in my imagination.  It is so, so cool to get that finished book from my publisher and think, "Wow, this is 100% all me."
JG:  Least favorite thing about being a writer?
ASW:  The freedom of it. When I'm not writing–which I'm not at the present moment because I'm rooting around for my next book idea–I have no one to blame by myself. And I put a lot of pressure on myself to jump-start my work, but if it's not happening, it's not happening…so…I'm waiting to be inspired by my next big idea. And that can sort of suck. 
JG:  What is the most interesting thing that's happened to you since becoming a published author? 
ASW:  OMG, that people somehow think I'm famous.  Seriously.  I run into old friends or acquaintances who say, "You're famous now!"  Which is hilarious.  Because a) I'm not and b) really, I'm not.  And if I were, I'm incredibly grateful that there is no US Weekly for writers.  Because I walk around all day in my sweats, looking like total crap, and if a paparazzi were to follow me, I'd definitely be listed in that "Stars without make-up" section!
JG:  What's your favorite type of pie?
AWS:  Strawberry-rubarb.  I love the combination of sweet and tart.  Which, yes, is also a metaphor for my personality.
Allison Winn Scotch is the author of a novel, The Department of Lost and Found. She is a frequent contributor to numerous magazines including American Baby, American Way, Bride's, Cooking Light, Family Circle, Fitness, Glamour, InStyle Weddings, Lifetime Television, Men's Fitness, Men's Health, Parents, Prevention, Redbook, Self, Shape, Stuff, USA Weekend, Woman's Day, Women's Health, and ivillage.com, msn.com, and women.com. She lives in New York with her husband and their son and daughter. 
Categories: News, Sleeping with Ward Cleaver
Tags: