Welcome Guest Author Sheila Curran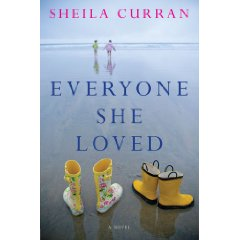 It's been awhile since my fellow authors from the Girlfriend's Cyber Circuit have had a new release so I'm happy to be able to tell you about Sheila Curran's novel, Everyone She Loved. Sheila, also the author of Diana Lively is Falling Down, has been rebounding from cancer surgery and treatment, so we're hoping to encourage a push to purchase her book because she's unable to do much of the marketing for it herself. So please do go check it out!
(oh, and I found an interesting piece by Sheila on the lovely M.J. Rose's Backstory blog so check it out too!)
Tell me a little about your book.
Four women, friends since college, live in a charming southern beach town.

One of them, Penelope, has more money than God.

Which may be why she insists on playing the deity from time to time.

Despite her beauty and inherited wealth, she becomes preoccupied with what might happen to her husband and children if she died.

So she talks her husband into signing a codicil to her will.

If she should die, he won't remarry unless the new wife (and more importantly) mother, has been approved by her sister and three best friends.

Years go by, the codicil gathers dust, and more than its share of hilarity, until the unthinkable happens and everyone she loved must find their way without Penelope.

Simply told, it's old money in the New South, romantic confusion, legal entanglements, and the unbreakable bonds between four women – and a man.
What got you writing in the genre in which you write.
My first two books, which were never published (I call them my very own Master's of Fine Arts) were murder mysteries. Oddly enough, I'm really not sure which genre I'm in. I guess you could call it a combination of 'women's fiction' 'mystery' with a dash of commentary on human relationships and foibles.
Favorite thing about being a writer?
The days when I have gotten into the flow and lost myself in the lives of my characters.
Least favorite thing about being a writer?
The pay.
What is the most interesting thing that's happened to you since becoming a published author?
Meeting other authors and finding out that they're just like me. I always thought I was slightly insane. I worried about everything, was afraid to fly, hated to leave my children alone with sitters, got stage fright, was completely neurotic. But as it turned out, it was really about having this over-active imagination. So many writers I know share these traits, that I finally realized: these are my peeps! What a great relief!
What's your favorite type of pie?
Apple. A la mode.
Advance praise for EVERYONE SHE LOVED
EVERYONE SHE LOVED is peopled with women of strong appetites . . .and Sheila Curran has amazing insight into the love-hate relationship that women have with each other and their own bodies. Curran is a beautiful writer, both witty and evocative…. I was up way past my bedtime, unable to stop turning pages…. Read this book, then pass it on to your dearest friend. She'll thank you.  
Joshilyn Jackson
, 
Gods in Alabama; Between,Georgia; and The Girl Who Stopped Swimming
"Sheila Curran writes the novels that readers love …and … takes on themes that touch us all — love, loss, motherhood, wifehood, and the sisterhood of friendship. It isn't so much that Curran has found her greatest muse in the unbreakable bonds between women, but that the unbreakable bonds between women have have found their greatest writer in Sheila Curran."  Julianna Baggott, award-winning poet and novelist, My Husband's Sweethearts, The Pretend Wife, The Prince of Fenway Park.
…Penelope Cameron, even in death, makes the lives of everyone around her richer-and that includes us, the readers of this brilliant novel.  We hold our breath as minor flaws become monsters, but in the end this group of friends and lovers really do take care of each other.  Everyone She Loved is for everyone who knows that love works, even when it's complicated, for everyone who screws up, and can still do the right thing after all, and for everyone who enjoys a great novel, with friendship and forgiveness at its heart. 
Paul Shepherd
, Mary McCarthy prize-winning author of 
More Like Not Running Away
Penelope Cameron May's unusual last request sets off the action in this riveting novel of love and friendship, betrayal and lies. Sheila Curran draws the reader in and this inventive book won't let go. Prepare to be surprised and moved. I read it in one delicious gulp.
Masha Hamilton
, 
The Camel Bookmobile
, 
The Distance Between Us
'Everyone She Loved' was the voice inside my head – at a time when I first contemplated my own mortality … this could have been my husband, my girlfriends and my children … it raises every emotion and suppressed fear within us all, with a clarity that is both deeply uncomfortable and yet stridently beautiful.  Julz Graham,  Dimensions
Julianna Baggott and Sheila willl have a signing party at the Tallahassee Garden Club to benefit Healthy Start on July 9th, 5:30.

She'll also be at the Barnes & Noble in Tallahassee on the 7th of July and in Jacksonville on the 15th.
Categories: News
Tags: