Welcome Guest Author Candace Havens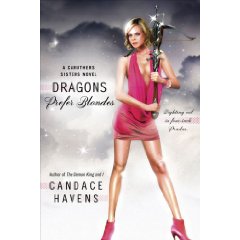 Geeze, I must have been writing fiction for longer than I realized because I started to think how long I've known Candace Havens from various writing groups online and I can't remember, it's been that long. And we've been doing it long enough to have witnessed trends come and go, and come back around again. Candy's got a new book in her latest paranormal series featuring the Caruthers sisters, aka "party girls who save the world–between cocktails," this one titled Dragons Prefer Blondes. When not writing fiction, Candy Havens is a journalist who has interviewed most of the big names in Hollywood today, and has a regular slot on KSCS in the Dallas/Fort Worth area. Please welcome Candy Havens!
JG: Tell me a little about your book.
CH: In "Dragons Prefer Blondes" Alex Caruthers is a socialite who knows when it's time to turn in her dancing shoes and kick some serious dragon booty. But she soon finds herself in big trouble with a dragon warrior. For help she turns to Jake, head of Caruthers security—and a total hottie in a suit—and asks him to pose as her boyfriend. Their relationship might be fake, but Alex can't deny that Jake makes her burn hotter than any dragon could.
JG: What got you writing in the genre in which you write.
CH: I've always been a fan of touch chicks and magic. Shows like Buffy, Alias and La Femme Nikita always appealed to me. I knew I wanted to write something along those lines but with some kind of paranormal/magic tie-in. That's how Charmed & Dangerous was born. I've managed to mix those two things for all of my books. Though, I am trying something new for Harlequin Blaze, which will debut in Feb. 2010. (smile)

JG: Favorite thing about being a writer?
CH: It's so hard to pick one. I'd say being able to go to work in my yoga pants and t-shirts, and the kind letters from fans. Those letters get me through the tough days.

JG: Least favorite thing about being a writer?
CH: The business side. I'm told I'm good at it, but promoting and all of that takes so much time away from writing. Some day I swear I'm hiring minions to take care of all of that.

JG: What is the most interesting thing that's happened to you since becoming a published author?
CH: Filming Nora Roberts in the toilet. Please, let me explain. I was the camerawoman for an episode of AuthorTalk, which is an online show done by authors Gena Showalter and Jill Monroe. I help them out whenever we are all in the same place, and I had the chance to film the Nora Roberts interview. Part of it included her fixing a hotel toilet, and I was standing in the shower, shooting the scene. It was one of the funniest moments of my life. I also saw what a great sport Nora was. I plan to be like that when I grow up and have 100s of books on the shelves. (smile)

JG: What's your favorite type of pie?
CH: Again, making me pick one is not fair. I am a lover of all pie. But if I had to choose a pie or die, it would be chocolate silk pie. That stuff just melts in your mouth. (See how I did that without offending the other pies?) :-)
Thanks so much for letting me hang out!

Categories: News
Tags: