As If the Summer Wasn't Hot Enough Already...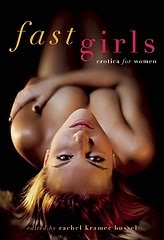 I have been grossly remiss in posting about my friend Rachel Kramer Bussel's steamy anthology Fast Girls, which came out a few weeks ago. I've been out of town too much and seriously backlogged with work, which meant I totally dropped the ball.
But I wanted to get this up while Rachel's still touring this book because if you are looking for a hot and fun summer read, you should definitely check out Fast Girls (as well as her other anthologies). Oh, and this one includes a short story by another writer friend of mine, the inimitable Kayla Perrin.
I think Rachel and I first met over cupcakes—she's the doyenne of the dessert and I saw a link to her blog from back when I was on the Debutante Ball. Her blog, Cupcake Takes the Cake always has the most creative and delectable-looking cupcakes; I often stop by just to slather. It's a good thing I'm nowhere near Manhattan or I would be seeking out the awesome cupcakes she posts…
But hey, a woman devoted to food and sex—what's not to love? ;-)
Now go check out Rachel's other blog and find out more about Fast Girls, and then go buy the book!
Categories: women, women's fiction
Tags: , cupcakes, Fast Girls