Traveling Outside My Comfort Zone
Several years ago I decided to break out of my comfort zone. Far, far out of my comfort zone. I'm the girl who thinks "roughing it" means no blow dryer. I am decidedly NOT a hiker, not a backpacker, and certainly not a very outdoors-y kinda gal.
So I decided to walk across part of Switzerland and Italy. With a backpack. In the woods. Alone. With 3 shirts, 1 pair of shorts, 1 pair of pants, 1 skort, 2 pairs of socks, 2 pair of underwear, and not much else. My backpack weighed around 18 pounds. I did not bring a blow dryer (but I'm not gonna lie: I thought long and hard about it). Did I mention I was going to be hiking? All day long? For weeks on end?
The original plan was to walk/hike along the Via Francigena—a pilgrimage route that spans from Canterbury, England, to Rome, best known for Sigeric the Serious, Archbishop of Canterbury, who walked the length of it in the 10th century to receive his papal vestments in Rome. I was going to walk part of it for the better part of a month (it takes 3+ months to walk the entirety).
Why would I do this? It's complicated. But let's just say I had just been looking for an interesting place to take a very long walk, to do something just so not me, and when I found out about the Via Francigena and realized it went through a good swath of Italy (including Tuscany, which I adore), which is one of my happy places, I was thrilled to do it—hike by day, pasta and wine by night—what's not to love?
Well, I sheepishly admit that for me, it was the hiking bit that wasn't to love. I mean I was okay with it. Ish. Hiking up into the Swiss Alps was spectacular. The picture of me with the St. Bernards was taken at the Great St. Bernard Pass at 8,100 feet—after hiking to the top, enjoying breathtaking views along the way. This is where Napoleon's army invaded Italy, and partly follows ancient Roman roads. The Hospice at the top (where I stayed) has been in existence since 1049 (founded by St. Bernard of Menthon), and became famous for its use of St. Bernards in rescue operations (think: the famous barrel of brandy on their necks).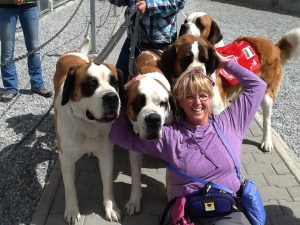 Hiking down from the St. Bernard Pass into Aosta was just beyond beautiful, with the cheery clang of cowbells punctuating the wind song coursing through the hills and valleys.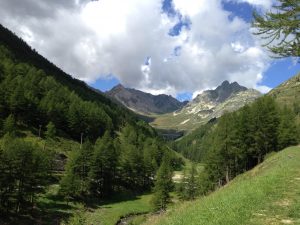 But there were parts of the hike that were just super boring—like I could have been hiking in the woods behind my house rather than in Italy. And I kept thinking, I'm in Italy and I could be in, say, Florence, rather than walking in 100-degree heat on a fire trail schvitzing my butt off while depleting my rapidly dwindling water supply, or along a busy roadside, foraging berries, only to look above the branch I just ate blackberries from, only to see a dirty diaper dancing from the thorny branches. Yummmm…
I was hearing the siren call of Italy loud and clear, and it was calling to me, big time, rather than resorting to listening to my iPod for the fifth time in a row, thoroughly bored with my own company. The deal-breaker was the road-walking part of it.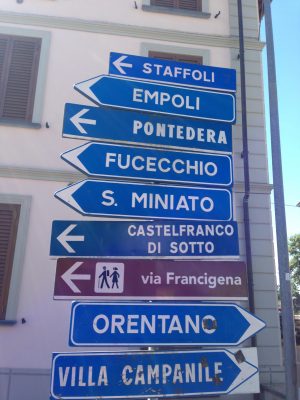 Walking for miles on 2-lane roads in Italy with broken glass, trash and doggy doo lost its appeal for sure, and one day when I was leaving a town during rush hour and was crossing a traffic circle and rolled my ankle and the weight of my backpack threw me into the circle (had there been a car coming I'd have been a goner) kind of helped me decide to adopt a Plan B. Don't get me wrong: I am in serious awe of people who will hike 15 miles a day for 3 months to get from Canterbury, England, to Rome. But I recognize that is so not in my wheelhouse. 
I just read The Sun Is a Compass, the most amazing book about a couple who trekked 4,000 miles over six months from the Pacific Rainforest to the Alaskan Arctic.
I decided to find my way to Florence, where I parked myself in a hostel for a while, then rented a tiny Panda smart car and drove toward Rome, staying for a couple of nights in a real castle that had been in the same family since the 11th century. The lovely owner gave me a tour; I even got to walk the drawbridge. The castle walls were pockmarked with divots from cannonball hits from wars over the centuries (some cannonballs were even used as wall decorations in the gardens). It was actually kind of a spooky place to be alone at night, but it was a fun and interesting experience.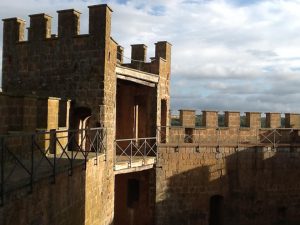 I ended my trip by meeting my husband in Rome then training it to the glorious Amalfi Coast. Prior to his coming, I Facetimed him in my closet and gave him explicit instructions of what to bring for me in a real, live, suitcase,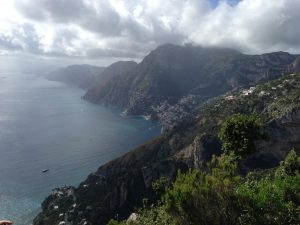 After weeks of no make-up, no blow dryers and hand washing my undies and socks nightly in hostel and pilgrim facility sinks, I was probably a little too excited for real clothes. But I was also thrilled to be with my husband—I found it to be very lonely to be out there alone in the woods, occasionally lost. Argh! Getting lost was the WORST, because it would sometimes add a mile or two to what was already a 12+-mile walk for the day. 
I cherish the experience, and it was good to learn that just like how I already knew I detest cilantro, I already  knew I wasn't a hiker or an outdoorsy girl, and it reaffirmed that I'm super fine with hotels and airbnbs and even hostels—and restaurants and amazing history to immerse myself in as well. It was super cool to find myself occasionally walking on Roman roads, and to imagine the history that preceded my treading on them, but I was more than happy to find myself back in civilization with the comforts of, well, civilization!
Read more about my adventures here:  Via Francigena
Categories: Jenny Gardiner, memoir, relaxation, travel
Tags: