***I WAS SUPPOSED TO CONTRIBUTE A STORY TO MY FRIEND MALENA LOTT'S CHRISTMAS ANTHOLOGY SLEIGH RIDE, BUT GOT A LITTLE SWAMPED, SO UNFORTUNATELY HAD TO DROP OUT. BUT I DEFINITELY WANT TO BE SURE I LET YOU KNOW ABOUT THIS WONDERFUL HOLIDAY COLLECTION OF STORIES, JUST OUT. READ ON FOR MORE!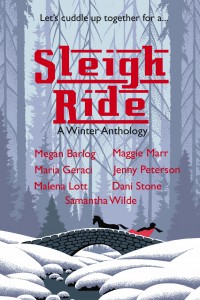 Get ready for the ultimate sleigh ride with Buzz Books. SLEIGH RIDE is a wintry mix of short stories with one common theme: each story includes a sleigh ride. The book will include seven short stories and a portion of the proceeds will benefit a national domestic abuse prevention fund via Alpha Chi Omega foundation. Women helping women is one of our highest endeavors, and we are extremely excited about the project.  The book is now available in trade paperback and ebook (Kindle and nook). We're also hosting two big contests over at our www.buzzbooksusa.com to celebrate the launch.
At the back of the book, some of our authors shared their favorite holiday recipes. Dani Stone, "No Place Like Home," shares hers below.
Cranberry Pecan Jell-O Salad by Dani Stone
Ingredients:
1 stick butter or margarine
1 cup flour
1 cup chopped pecans
1 – 8 Oz. package cream cheese
1 cup sugar
1 – 12 oz. Cool Whip
1 – 6 oz. box of cranberry Jell-O
2 cups boiling hot waster
2 16 oz. cans whole cranberry sauce
Directions:
1.    In a 9" by 13" pan, melt 1 stick of butter ormargarine.  Mix in 1 cup of flour and 1 cup of chopped pecans.  Press evenly in pan and bake at 350º for 12-15 minutes.  Cool.2.   Mix cream cheese and 1 cup sugar.  Fold in CoolWhip.  Spread on cooled crust.3.   Dissolve Jell-O in water and mix incranberries.  Refrigerate until thickened.  Pour over cream cheese layer.4.   Refrigerate until firm and ready to serve.
My mother-in-law makes this every Thanksgiving. We serve it on a piece of endive lettuce on its own little plate. The salad is a gorgeous, tasty addition to any table.
Dani Stone is a freelance writer juggling assignments like a circus performer in sparkly red shoes. Currently, she's contributing web content for MediaRefined.com and writing a charity spotlight series for the life-changing micro-giving site, Lovedrop.us. Dani lives with her husband and two children in the great flat state of Kansas. www.ihearlaughtracks.wordpress.com