My friend Judi Fennell is just cranking out books and so, as one of my fellow members of the Girlfriends Cyber Circuit (as well as a good friend), she's back to tell us about her latest novel, Catch of a Lifetime.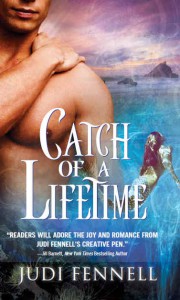 Here's a little bit about the novel:
She's on a mission to save the planet…
Mermaid Angel Tritone has been researching humans from afar, hoping to find a way to convince them to stop polluting. When she jumps into a boat to escape a shark attack, it's her chance to pursue her mission, but she has to keep her identity a total secret…
When he finds out what she really is, they're both in mortal danger…
For Logan Hardington, finding a beautiful woman on his boat is surely not a problem—until he discovers she's a mermaid, and suddenly his life is on the line…
And plenty of high praise for Judi's writing:
"Fennell's got detailed worldbuilding, creative secondary characters and an impressive use of mythology in this great read. While this title is part of a series, it works well as a stand-alone. Angel and Logan are both incredibly textured characters.
-RT BookReview Magazine 4 Stars
"Judi Fennell has extraordinary imagination and has certainly used it in creating this exciting and colorful story. Her characters are wonderful."
"The best blend of both worlds. I… love each and every character in Catch of A Lifetime (and) found (it) well worth diving into."
Long And Short Reviews 4.5 Books
4 Stars!
Affair de Coeur Magazine
"Catch of a Lifetime is a heart warming tale. Ms. Fennell Ms. Fennell has created a delightful world that, I have enjoyed escaping to. It is both dangerous and fun."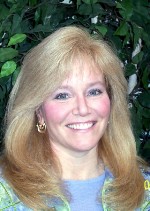 JG: Tell me a little about your book.
JF:  Angel Tritone, Mer princess, wants to become the Director of the Mer-Human Coalition that her High Councilman brother, Rod, is putting together. But Rod won't let Angel even interview for it, so she sets out to prove to him that she can handle herself with Humans.
Sadly, it's the sharks she can't handle and when Hammerhead Harry chases her onto a Human boat and she has to hide out (and her tail turns into legs), she decides to use the opportunity for first hand knowledge to strengthen her position.
Logan Hardington wants nothing more than Normal in his life. But with a six year old son he never knew who was suddenly dropped on his doorstep, he's not quite sure what that is, and figures deep sea fishing with the boy will yield some results.
It does, but not quite the ones he wants. Turns out, his son has hooked a mermaid.
Of course, Logan doesn't find out Angel is a mermaid until after he and Michael, his son, have both fallen in love with her. Except that a mermaid is as far from Normal as he can get and Logan, who'd run away from the circus as a teen, can't figure out how to make it Normal and banishes her.
When Michael goes in search of Angel and some hammerheads get involved in the search (hey, it's a two-fer! Appetizer and a main course!), things get dicey. Toss the biggest sea monstress of all times into the mix, and well, Normal it definitely is not.
JG: Favorite thing about being a writer?
JF:  The blue Disney princess tiara my brother in law got me for Christmas to go with my blue fluffy robe and Hello Kitty slippers. Now all I need is a feather boa.
Seriously, I love everything about being a writer. Even the thirty hour days as deadlines loom. And I'm not a procrastinator!
JG:  Least favorite thing about being a writer?
JF:  Those thirty hour days. It's a love/hate relationship.
JG:  What is the most interesting thing that's happened to you since becoming a published author?
JF:  The reader email. As writers, we sit in front of our computers (in the aforementioned fluffy robe and tiara) and take these voices in our head and put them on the screen. Then we round them out with scenes and actions, and pretty it all up with grammar and punctuation and send it off. You never know if it's good until people actually read it and let you know. So that's the best part – hearing that they liked it.
JG:  What's your favorite type of pie?
JF:  Always will be apple. Mine. Thanks to my 9th grade Home Ec teacher, I have a killer recipe. I've gotten my kids into the habit of peeling and slicing the apples, so I make the pies more than I used to since they're labor-intensive. But it's a nice family time activity and we get to enjoy the fruits (ha!) of our labor.
About The Author:
Judi Fennell has had her nose in a book and her head in some celestial realm all her life, including those early years when her mom would exhort her to "get outside!" instead of watching Bewitched or I Dream of Jeannie on television. So she did–right into Dad's hammock with her Nancy Drew books.
These days she's more likely to have her nose in her laptop and her head (and the rest of her body) at her favorite bookstore, but she's still reading, whether it be her latest manuscript or friends' books.
A three-time finalist in online contests, Judi has enjoyed the reader feedback she's received and would love to hear what you think about her Mer series. Check out her website at www.JudiFennell.com for excerpts, reviews and fun pictures from reader and writer conferences, and the chance to "dive in" to her stories.
Contest
To celebrate the release of each of her books, Judi Fennell and the Atlantis Inn (www.AtlantisInn.com) and the Hibiscus House (www.HibiscusHouse.com) bed and breakfasts are raffling off three romantic beach getaway weekends. All information is on Judi's website, www.JudiFennell.com
Be sure to check out Judi's other novels in this series, Wild Blue Under and In Over Her Head.
Sourcebooks, Inc. (February, 2010)
ISBN#:9781402224287
Categories: News