I've always loved to exercise, though unfortunately my lifestyle has not lent itself to nearly the level I once enjoyed, nor the amount I now require, for that matter.
One of the activities I have found most gratifying both physically and mentally is yoga. So much so that for a couple of years I practiced yoga daily. And it was then that I was probably my most chill, as I conditioned my mind to find a quiet center, and so many little life annoyances—traffic, obnoxious people, an out-of-control life–just stopped bothering me.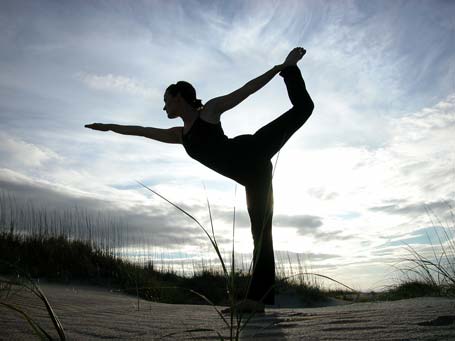 But as my schedule somehow grew more demanding, yoga became one more added stress in my life—a have-to that I felt guilty if I missed, but anxious if I attended, knowing as I did I was failing to perform some other mandate in its stead.
So while yoga at first presented itself as downright medicinal, it became, well, I don't want to say toxic, but it became contraindicated. I know, I have people in Yogaville right now wanting to injure me upon reading my suggestion that yoga is anything but peaceful, except that it's so un-yoga-like to want to injure someone. What I mean by that statement is that yoga became part of my stress. But it wasn't yoga's fault! It was all my doing; I was simply incapable of letting yoga do what it was supposed to do: relax me. Instead, my yoga practice became a practice in managing high blood pressure, because the longer I was at yoga, the more I was internally freaking out about what I had to do but wasn't doing because I was doing what I wanted to do which wasn't what I should be doing because I needed to be doing other things. Yoga=Peace became Yoga=Internal Strife.
Finally I had to bid farewell to yoga, much to my chagrin. Which of course has caused more stress, which, I know, would be ameliorated by just practicing yoga. But I'm trapped in a Type-A-need-to-earn-money-to-send-my-kids-to-college-and-god-forbid-dream-of-retiring-some-day-without-having-to-hand-out-smiley-face-stickers-at-WalMart-till-I-keel-over vicious cycle, the tail wagging the dog and the dog eating the cat (or in my case, the parrot) and who knows what else.
But I think I have a solution to my quandary that will enable me to return to my practice without feeling one iota of anxiety: Stress yoga! I want to become the Doyenne of Stress Yoga. I will be to yoga what Jane Fonda is to aerobics. Or what the Hamburglar is to McDonalds. You decide.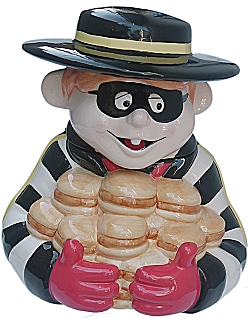 Now hear me out. For years Hollywood has masterfully hybridized something good-for-you with something usually ludicrous, just to test the limits. In the lingo of L.A., they've taken exercise and made it High Concept. For the uninitiated, High Concept is flipping something on its head to make you say "Huh!" Like blending Jane Austen with zombies in a novel (bet you never thought you'd read that one, did you?).
Some of the quirkier Hollywood workout trends? Paddle surfing (canoeing and surfing). Budokon (a fusion of yoga, martial arts and meditation). The Katana sword workout (à la Kill Bill, only with foam swords). Hoopnastics (hula hoop, yoga, ballet and pilates). Boogie Box (hip-hop and kickboxing). Piloxing (pilates and boxing). Or how about Bollylates (Bollywood dancing with Pilates). (I confess, I just made that last one up, but it probably will be a fad soon enough). But Naked Yoga is indeed a reality that could only be gotten away with in Hollywood—with any lesser physiques in attendance, the entire class would have to be conducted blindfolded. Although I would argue that seeing Nicholas Cage engaged in naked yoga is enough to make me run the other direction.
And in a cruel reversal of the trend, someone is making a killing on a new L.A. fitness craze called Celebrity Jogging, which doesn't involve celebrities jogging, but rather everyday schlubs running from hotspot to hotspot, cameras at the ready, trying to spot celebrities while elevating their heart rates. They should call that the Stalking Workout.
Hollywood types are known for launching all sorts of trends in the name of health and fitness (or at least thinness)—the latest being weeks-long cleanses in which you ingest only a concoction of maple syrup, lemon juice and cayenne pepper. Or vinegar, if you really want to be wild. By comparison my workout will be downright healthful. Besides, you've already heard of Power Yoga, right? I'm just taking it one step further.
Stress Yoga might well be my salvation, since I can readily market it to an ever-busier population that just might have no choice but to multi-task being extremely stressed while being centered and ultra-chill. All I need to do is market this class (which is, if nothing else, slightly ironic) to the right people and I'm guaranteed if the power-workout fiends in Los Angeles take to it (and who wouldn't? Those folks have to be as stressed as they come) I am bound to strike it rich. And if I become rich, then I'll have time on my hands and voila, I'll be able to return to yoga, stress-free.
Hey, at least it's not Naked Hula-Hoop-Swordplay-Hip-Hop-Kickboxing Pilates, right?