Coming Soon
Red Hot Romeo
Book 1, The Royal Romeos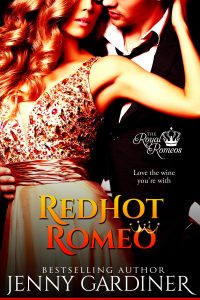 Love the wine you're with…
Alessandro Romeo is burned out after finally extricating himself from a nearly year-long relationship with a hot-tempered Italian model who set fire to his Lamborghini when she suspected him of cheating. He's sworn off the fairer sex and instead spends his waking hours overseeing the expansion of his family's hugely successful winery in the magnificent hills of Chianti, where he is happy to never see a model again, let alone date one.
American supermodel Taylor McFarland might be blond, but she sure isn't dumb. And she's smart enough to know to avoid the shallow men who seem to migrate toward her type, the ones who presume that models are the wild women of the fashion industry who happily discard men like used tissues.
Only Taylor's not that type at all; instead, she's intent on using the influence her position affords her to help those less fortunate than she.
But when her good deeds means clashing with the quintessential heartless Italian player who she'd heard left model Gia Sandretti at the altar, well, she will happily give him a piece of her mind, and certainly not a piece of her heart.
Out Now
A Court Gesture
Book 8, It's Reigning Men
Hard to get never felt so good…
Prince Luca of Monaforte is a player. Or so the tabloids claim. Rarely is he seen without a gorgeous, tall, blonde celebrity on his arm, and never has he had to so much as lift a finger to woo any female within a fifty-mile radius of him. Until he meets Larkin Mallory, a journalist he encounters who is covering fashion week.
Petite, blonde-haired Larkin Mallory would rather stick a toothpick in her eyeball than have to sit through an interview with the arrogant young prince from Monaforte, who clearly thinks he's all that. But when her boss gives her the choice: interview him or be fired, she makes sure Luca is in for the most uncomfortable interview he's ever had to suffer through. Too bad for Larkin that being as formidable as a medieval fortress only makes Luca want to win her to his side even more.