Coming Soon
Falling for Mr. No Way in Hell
Book 3, The Falling for Mr. Wrong Series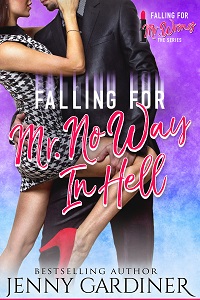 Taking the plunge…
Lacy Caldwell's mermaid gig at a cheesy roadside beach bar provided much-needed income while she pursues her graduate degree. That is until the beloved owner dies and her greedy nephew announces he's cashing out by closing the bar and selling the property to a developer who's going to replace the kitschy charm of the Mermaid's Purse with ocean-view condos.
Cameron Sanders can't believe his good luck. Struggling financially, he's thrilled to find out some random, ancient aunt he hardly knew died and left him an inheritance that'll help take the money monkey off his back. He's ready to go to the mat in battle when some annoying mermaid from the bar tries to throw a wrench in his plans. But things get complicated when he realizes that she's a woman he's started to have feelings for.
Out Now
Falling for Mr. Maybe
Book 2, The Falling for Mr. Wrong Series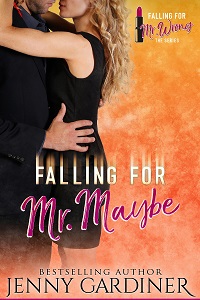 If it swells, ride it… 
Georgie Childress moved to Verity Beach to lick her wounds after her controlling fiancé pulled a runner mere weeks before the wedding. Jobless and desperate to flee his turf, she sought solace in the quietude of the ocean, happily escaping into her own thoughts while surrounded by diving dolphins and cacophonous seagulls. Only when she accidentally runs over some random—and super sexy—surfer dude's surfboard does she start to wonder if she needs to bring her head out of the clouds and start paying attention to life again. 
Spencer Willoughby long ago fled his rigid upbringing, shunning the familial expectations of an Ivy League education and Wall Street career in favor of the sun, sand and surf along North Carolina's Outer Banks. Give him a surfboard and he's a happy man. That is until some nutty lady with a penchant for fender-benders backs into his beloved hand-crafted wooden surfboard, snapping it in half. It's enough to make a man crazy—crazier still because the kooky blond is making his blood run hot. 
Just when he finally gets the woman out of his head, Spencer is unwittingly paired off with her at a wedding as a favor to a friend, forcing him to make nice with his board-murdering nemesis who he might just want to ride off into the sunset.