Out Now
Red Carpet
Book 3, The Royal Romeos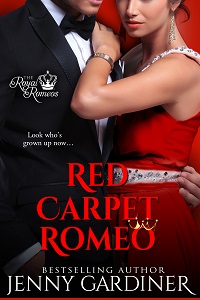 Look who's grown up now…
Valentina Romeo loved a romantic wedding, and couldn't wait to serve as an attendant in her favorite cousin Prince Luca of Monaforte's upcoming nuptials. She and Luca had reveled in childhood summers at the family estate on the Ligurian Sea. Many of her fondest memories were made there, along with one of her most humiliating, when Luca's college roommate Parker shunned her brave declaration of love.
Investment banker Parker Hornsby hadn't been back to Monaforte since he was in college. Back then he'd spent a glorious summer enjoying idyllic days at his best friend Luca's family beach home. The fun was marred only by Luca's obtrusive younger cousin Valentina, who could barely mask her crush on Parker, forcing him to flatly cut her off before she got her hopes up. The last thing Parker wanted was to be accused of going after his friend's jailbait cousin, even if she was about the sweetest fourteen-year old girl he'd ever met.
But when Parker shows up in Monaforte, paired in Luca's wedding with Valentina, all bets are off on whether he can restrain himself from the beautiful—and fully grown-up—heiress to the world-famous Romeo wine label, or whether her remains the nemesis she thinks he is.
Coming Soon
Blue Collar Romeo
Book 4, The Royal Romeos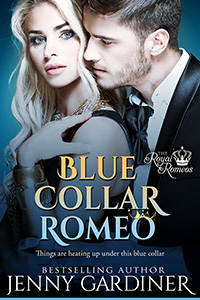 Things are heating up under this blue collar…
Gisele Hornsby can't believe her good fortune when she's invited to attend the royal wedding of Prince Luca of Monaforte with her brother Parker. And she's elated when she finds herself cozying up to Luca's charming and very hot royal cousin, Tomasso Romeo. Until she learns he's a cowardly commitment-phobe, and she decides she wants nothing more to do with a man who shuns simple friendship with another woman for fear of what might happen that could tie him down.
Tomasso Romeo's in need of a change. Tired of following the dreams of his father toiling in the family wine business in Tuscany, he realizes he's happiest when working with his hands, and heads off for New York to apprentice with a famed woodworker who helped to build his family's lavish corporate headquarters, a stunning tribute to craftsmanship and now a popular tourist destination.
When Parker takes a sabbatical in Italy to be with Tomasso's sister, he persuades Tomasso to move into the Manhattan brownstone in his place to keep watch over his beloved little sister. But Gisele is none too pleased with her brother's unwelcome meddling, and decides her new roommate has got to go. Before she remembers how much she'd like nothing more than to have him stay.