Now Available
Throne for a Loop
Book 6, It's Reigning Men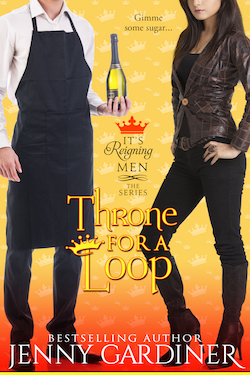 Gimme Some Sugar…
Sawyer Patterson has never been one to care much about first impressions, except when it comes to royalty, because snagging a palace endorsement could make or break his fledgling catering business in Monaforte—the European principality where he's settled following culinary school and an apprenticeship at a renowned French patisserie.
Despite his anti-royalist upbringing, when he's hired for a birthday party for Princess Isabella, he doubles down to ensure the birthday cake he makes for her will leave a lasting impression…
Coming Soon
It's Getting Hot in Heir
Book 7, It's Reigning Men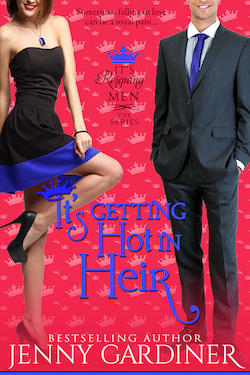 Sometimes falling in love can be a royal pain…
Gabriella Puccini, Contessa of Castiglione Girasole, is tired of having to sacrifice everything for the men in her life. So when she finally realizes that her fiancé would rather be married to his career than to her, she decides to go back to where it all began to figure out why she keeps settling for the wrong men, only to encounter her childhood crush, who couldn't be more wrong for her…
Edouardo Squires-Thornton has been decidedly down on his luck. Unceremoniously sidestepped for the family inheritance upon his beloved father's death, Edouardo has spent months adrift, feeling lost and confused, barely mustering the energy to do much but watch bad reality TV in his boxers. But when he's tricked into an unexpected meeting with childhood sweetheart Gabriella, will Edouardo decide it's time to pull on his big boy pants and figure out his life?