Coming Soon
A Court Gesture
Book 8, It's Reigning Men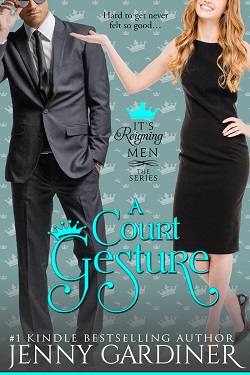 Hard to get never felt so good…
Prince Luca of Monaforte is a player. Or so the tabloids claim. Rarely is he seen without a gorgeous, tall, blonde celebrity on his arm, and never has he had to so much as lift a finger to woo any female within a fifty-mile radius of him. Until he meets Larkin Mallory, a journalist he encounters who is covering fashion week.
Petite, blonde-haired Larkin Mallory would rather stick a toothpick in her eyeball than have to sit through an interview with the arrogant young prince from Monaforte, who clearly thinks he's all that. But when her boss gives her the choice: interview him or be fired, she makes sure Luca is in for the most uncomfortable interview he's ever had to suffer through. Too bad for Larkin that being as formidable as a medieval fortress only makes Luca want to win her to his side even more.
Out Now
It's Getting Hot in Heir
Book 7, It's Reigning Men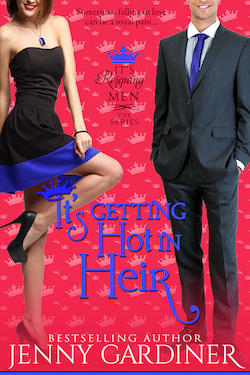 Sometimes falling in love can be a royal pain…
Gabriella Puccini, Contessa of Castiglione Girasole, is tired of having to sacrifice everything for the men in her life. So when she finally realizes that her fiancé would rather be married to his career than to her, she decides to go back to where it all began to figure out why she keeps settling for the wrong men, only to encounter her childhood crush, who couldn't be more wrong for her…
Edouardo Squires-Thornton has been decidedly down on his luck. Unceremoniously sidestepped for the family inheritance upon his beloved father's death, Edouardo has spent months adrift, feeling lost and confused, barely mustering the energy to do much but watch bad reality TV in his boxers. But when he's tricked into an unexpected meeting with childhood sweetheart Gabriella, will Edouardo decide it's time to pull on his big boy pants and figure out his life?